Région

The Dordogne is divided in 4 parts: The campsite is situated in the Perigord noir (black Perigord), more precisely in the middle of the «golden triangle» between Les Eyzies de Tayac, Montignac sur Vézère and Sarlat la Canéda. The Perigord noir is the name of a former natural region also called Sarladais. With a part of Brive's territory at its north, it is today one of the four tourist designations of the Perigord, with the Perigord blanc (white Perigord, for its sedimentary soils), the Perigord pourpre (purple Perigord, for the grape vines) and the Perigord vert (green Perigord, for nature). Situated in the east and the south-east of the department of the Dordogne, the Perigord noir got its name because of big and dark oak forests and it has originally nothing to do with the truffels.
The agricultural activities are varied. In the north, there is mostly cattle farming, but the biggest part of the region combines cereal culture and breeding. The Dordogne valley also grows crop (like strawberries) and is known for its wine culture (Bergerac, Monbazillac)


This region is famous for its walnuts, its truffels and its foie gras.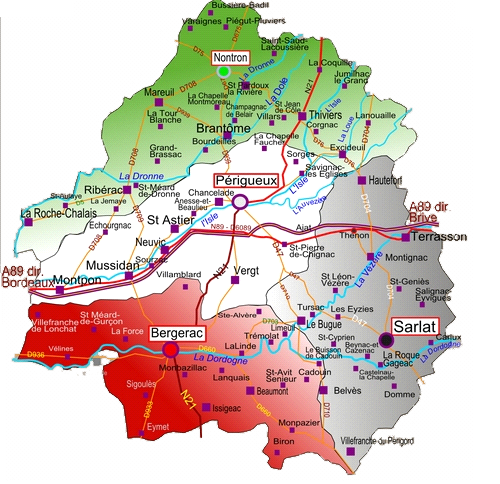 The Perigord is the richest department of France, after Paris, when it comes to historical monuments. The wealth of its past, especially with regards to prehistory (Lascaux, les Eyzies of Tayac) and its gastronomic specialties made the Dordogne a well known tourist department withhigh qualitie and values. Indeed, in 1979, the UNESCO registered the Perigord as «Pays de l'homme» (country of Man) in the World Heritage with about twenty tourist sites. There are about fifteen tourist sites who carry the marks of our historical heritage. The most famous site is undoubtedly the Lascaux caves, but there are more amazing places to visit such as Font-de-Gaume in les Eyzies, la Roque Saint-Christophe in Peyzac-le-Moustier or Maxange's cave in le Buisson de Cadouin.

IIn 2012, UNESCO also declared the valley of the Dordogne as a biosphere reserve to honour the efforts made to preserve this area and allow a sustainable development.

Constantly willing to preserve this nature and those sites, filled with emotions and history, the Dordogne doesn't spare its efforts to protect its landscape and sites while doing everything possible to make sure everyone can (and will) enjoy it!